Dependable – because we designed it that way!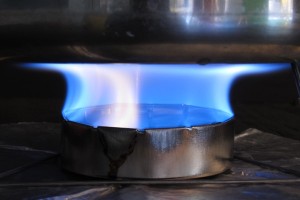 Alcohol stoves have a higher reliability than canister stoves because they don't use needle valves, pressurized containers or gas seals. Additionally, alcohol stove work in cold temperatures and don't lose pressure like canister stoves. The FLAT CAT Standard stoves are the simplest type of alcohol stove to use. You fill it with fuel and light it: that it, you are ready to start cooking! Our design has no moving parts; there are no seals or adhesives used. This means that there is nothing to break down and no maintenance is necessary. Additionally, our FLAT CAT stoves do not need to be primed, it doesn't have a wick and you don't need to wait for the stove to "bloom" before cooking
We designed FLAT CAT Stoves to be simple to use and reliable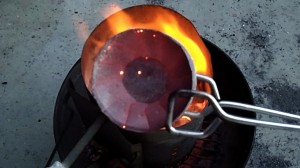 We do extensive testing of our gear. We conduct multiple test burns over a several weeks under controlled conditions. We test our stoves using various conditions including different water temperatures, different water volumes, various fuels and test the efficiency under windy conditions. See how we tortured our FLAT CAT Standard stove!
Before we sell our products, we do extensive testing while on the trail and under real conditions. We have used our stoves up to 14,500 feet as well as in sub-freezing temperatures. Not only do we take our gear backpacking, we gather feedback from our customers. The comments below come from people who have used a Bobcat Cooking System on a daily basis for over 5 months.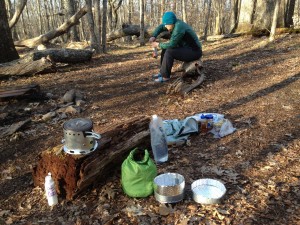 "After 5 months of daily use on the PCT (we typically only cooked dinners) and a week-long test hike in the Smoky Mountains, we're still sold on the stove…Overall, the Bobcat system did an admirable job coping with the rigors of an extended trip (156 consecutive days). The stove itself is really a work of art and this lends to its durability as it is one solid piece of metal. Although the stove and screen could have easily held up inside a small storage sack or loose in our packs, we liked how it nested in our pot and it shared the space with the simmer ring, dish rag, lighter, and fuel measuring cup with room to spare!"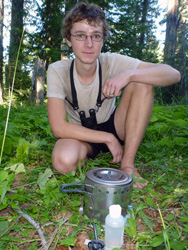 "The Bobcat System was nothing short of perfect for my lengthy stint in the woods.  It remains absolutely none the worse for wear, even after heating 800 cups of food and drink for myself and my friends with 100% reliability over a six month period. I love that this entire system fits in the cooking pan, is light weight, and efficiently burns easily obtainable fuel. I will certainly be using this simple, effective and affordable cooking system for years to come".
Dependable – because FLAT CAT systems are multi-fuel
We offer multiple stoves for the Bobcat system. Our stoves allow you to burn denatured alcohol, isopropyl alcohol, solid fuels like Esbit and we are now introducing Crossover Burning where you use a combination of wood and alcohol. We are dependable because no matter where you go in the world, we have a stove that will work for you.