complete ultralight cook systems
everything you need to boil, simmer, fry & bake
epic meals at awesome places
bread, pizza, muffins and more – with perfectly browned crust!
convenient, efficient, and self-contained
as light as 2 ounces (56 grams), fuel efficient, and everything packs in the pot
packable, versatile, sustainable
We support denatured alcohol, solid fuels (Esbit, Coglan), isopropyl, gel alcohol, Sterno and isobutane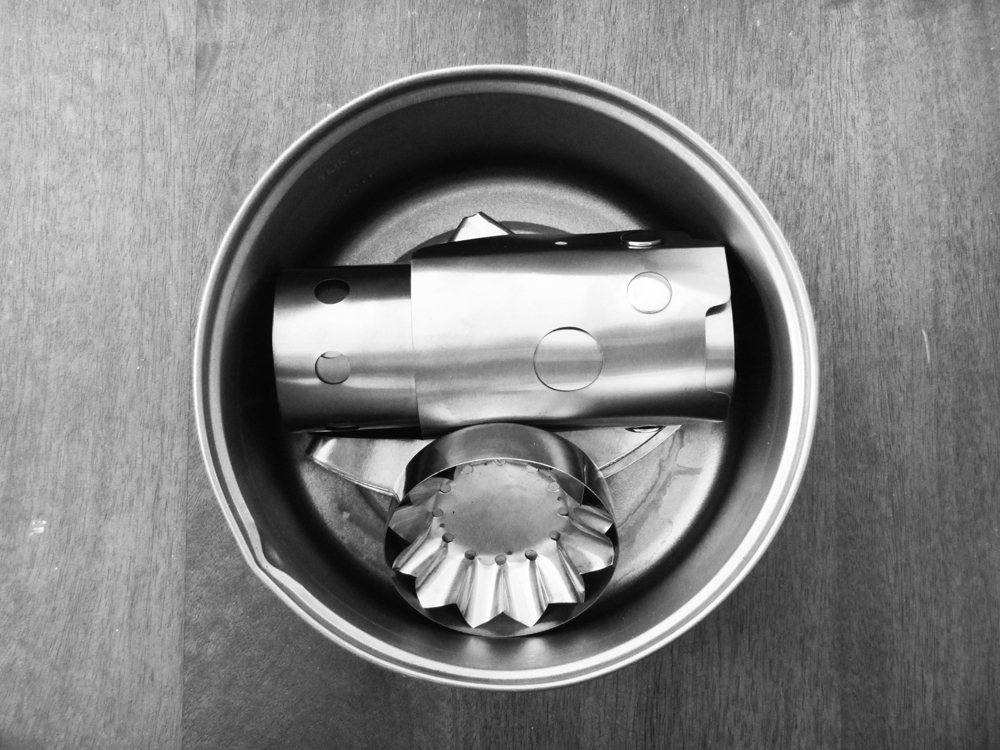 The Bobcat System (Pots): Alcohol, Esbit & Isobutane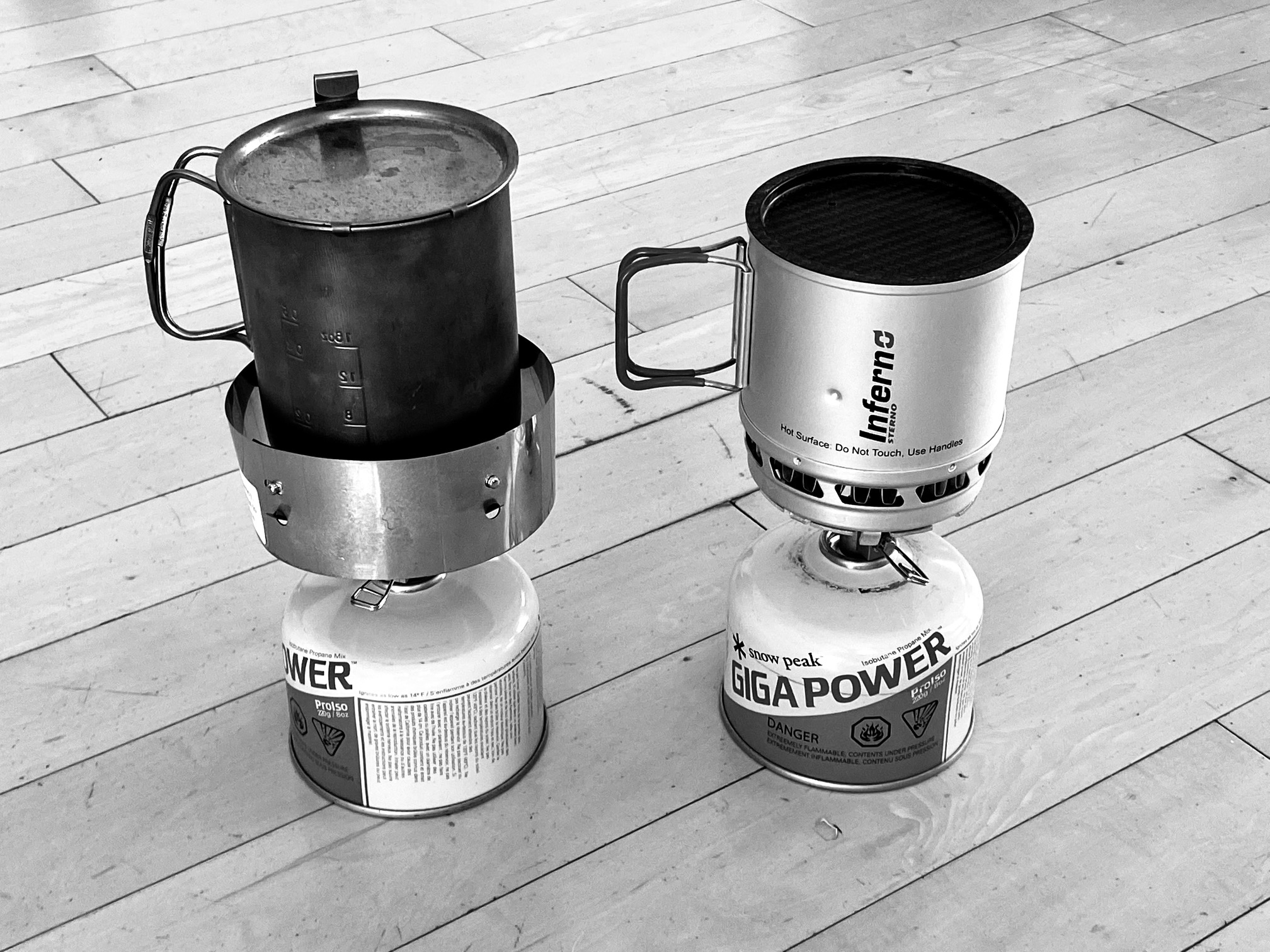 Ocelot & Cheetah WIndscreens
The Ocelot (left) and Cheetah (right)
These windscreens are designed for canister topped stoves.
We will be out of the country during the month of September, returning in early October. Orders placed after Sept 1st will be fulfilled after we return.
Arrivederci!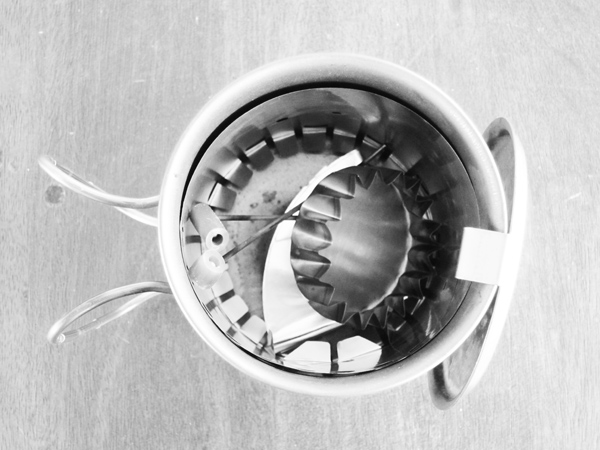 The Snow Leopard System (Mugs): Alcohol & Esbit
Epic meals at awesome places
We design cooking systems that allow you to prepare the meals that you want to eat, wherever you happen to be. From making tea on top of Mt. Whitney to melting snow during the Iditarod 350 race to dry baking a deep dish pizza on the John Muir Trail, we've been there and done that. We use to dream about cheeseburgers while hiking and now we just bake them on the trail! With our Cooking Systems you can boil, steam, pan fry and oven bake. Our Epicurean Backpacker's Cookbook has some of our favorite trail tested recipes; you can download a copy for free!! You now have the opportunity to bring the meals that you only use to dream about!.
Our philosophy has been to develop and refine Cooking Systems that are reliable and easy to use. To meet these objectives, we designed all of our Cooking Systems to nest inside your pot or mug. This provides the ultimate protection and keeps your gear in one handy spot. Our cooking systems have been used worldwide as well as being used on long distance through hikes (PCT, AT & CDT). We also designed our Cooking Systems to be modular allowing you to configure your hardware for the different environments and logistical challenges.
We offer four basic cooking systems: Bobcat, Snow Leopard, Ocleot & Cheetah
The Bobcat Cooking System is designed for people who prefer pots. We offer three sizes that corresponding to the most popular pot sizes: 1.3 liter, 0.9 liter and 0.6 liter. Pots have a large diameter to height ratio and this characteristic produces Cooking Systems with the highest fuel efficiency. Bobcat Systems will boil 2 cups of water using 15 grams of fuel. The 1.3 liter size is idea for two people. The 0.9 liter is the minimal size for two or the luxury size for one. The 0.6 liter is perfect for the soloist and can be used to boil 2 cups of water.  We support a vast majority of other pot sizes by using our Extension Stake configuration.  You can even select the windscreen materials, Aluminum (limited), Stainless Steel or Titanium.
The Snow Leopard System was designed for use with mugs. We offer two different windscreen sizes that correspond to the most popular mug sizes: Snow Leopard Original & Sr. (the Original and the Jr. were merged in 2018).  We also offer windscreens in Stainless Steel as well as Titanium,  This range allows us to support over 150 different mug diameters (500 ml to 1200 ml). Mugs are generally used a solo adventures as mugs are valued for their small pack volumes.
The Ocelot Windscreen is design for canister top isobutane stoves and consist of a full circle, yet partial windscreen. Ocelot is design to protect the burner head from the wind while allowing ample space to keep the isobutane canister cool as provide an ample supply of fresh air to your stove. The Ocelot Windscreen consist of a Stainless-Steel windscreen along with a stove specific burner plate that matches your stove to our windscreen
The Cheetah Windscreens are specifically designed to support mugs with Heat Exchangers (HX) fins. HX Mugs are about 20%-30% more efficient than standard mugs. We designed a plate that integrates various stoves to a plethora of HX mug. Additionally, the plate coupled with the HX geometry provide an outstanding windscreen system. Our performance is on par with the MSR WindBurner at a fraction of the weight and cost. This is the go to system for the fast and light crowd that are mainly interested in boiling water beyond "fair weather" conditions.