Ocelot Windscreens: A Family of Solutions
   The Ocelot Windscreen was designed for people who use mugs along with canister topped stoves. These are great, lightweight cooking options as the stoves are compact and can weight less than an ounce. As marvelous as these devices are, the one area that they lack in is wind protection. All stoves (alcohol, Esbit, isobutane or white gas) all need some sort of protection from the wind. Without a windscreen, fuel efficiency can drop like a rock as well as significantly increase the time to heat up water. There have been a few attempts to solve this problem including the Optimus Crux Clip on windscreen and the Giga Peak windscreen plate. To date, there hasn't been a completely satisfying solution. A few people have tried surrounding the cooking system (canister & stove) with a partial windscreen with occasional disastrous results.
    Enter the Ocelot Windscreen! Ocelot consist of a full circle, yet partial windscreen. Ocelot is design to protect the burner head from the wind while allowing ample space to keep the isobutane canister cool as provide an ample supply of fresh air to your stove. The Ocelot Windscreen is actually a whole family of solutions and consist of a Stainless-Steel windscreen along with a stove specific burner plate that matches your stove to our windscreen. We will be expanding our product line as the product matures. Similar to our other cooking gear, the Ocelot Windscreen has been designed to nest inside your mug: like the Snow Peak trek 700. Of course, smaller mugs can be used however; the specific burner plate may not nest inside your mug.  NOTE: below, I have included a few niche mugs that are 900 ml or larger and narrow for those who need larger capacities.
   The Ocelot Windscreen was not designed to boil water as fast as possible.  If that is your objective, go buy a JettBoil.  The goal of the Ocelot System is to preserve fuel efficieny in windy environmets.  We aim to be able to boil 2 cups of water using 5-7 grams of fuel and it usually takes about 6 minutes to reach a boil.   If you need to boil something fast (like melting snow), just remove the windscreen.     
Ocelot: Stove Compatability
MSR PocketRocket (Original), PocketRocket 2 & PocketRocket Deluxe

BRS 3000t 

Soto Amicus, Soto WindMaster (3 Flex & 4 Flex)

Kovea Spider

Fire Maple 300T (Hornet or Wasp)
Specific Design Features
The Cooking System nest inside your mug for ultimate protection
Light weight system: approximately 28 grams / 1 oz
The windscreen is 4.7″ in diameter and we recommend at least a 1/4″ clearance (4.2″ diameter).  As a reference, the Snow Peak Trek 700 is 3.8 and the TOAKS 750 ml mug is 4.0 " in diameter. 
Pre-curved windscreen for easy assembly
Pre-Alignments pins to help stabilize the windscreen during assembly
Technical Specifications
Windscreen material: 304 Full Hard Stainless Steel
Cooking System dimensions: Height model dependent (1.5″-1.9″)  Diameter 4.7" [windscreen: Model Dependent: – 0.003";  Burner Plate – 0.012″ to 0.0155"]
Weight: 28 grams 
A note about the Ocelot Windscreen. This system was specifically design for canister top stove users who are concerned about fuel efficiency. We recommend that you use your canister top stoves at a low burn rate as that is the proven method of extracting as much fuel efficiency as possible.  You should be able to boil 2 cups of water using 6-8 grams of fuel: that means that you should be able to achieve about 16 2-cup boils per 4 oz canister.
Ocelot Performance in the Wind
Here are wind tunnel test results from the PocketRcket Deluxe.  The test was run at ambient as weill as with and without the Ocelot windscreen.  In all test, 2 cups of 70 F water was used and heated until boiling (210 F at our elevation).  At 3.5 mph wind, the Ocleot Windscreen saved 5 grams of fuel per boil.  In all cases, the stoves were turned to 1/3 power, increasing the power, lowers the fuel efficiency.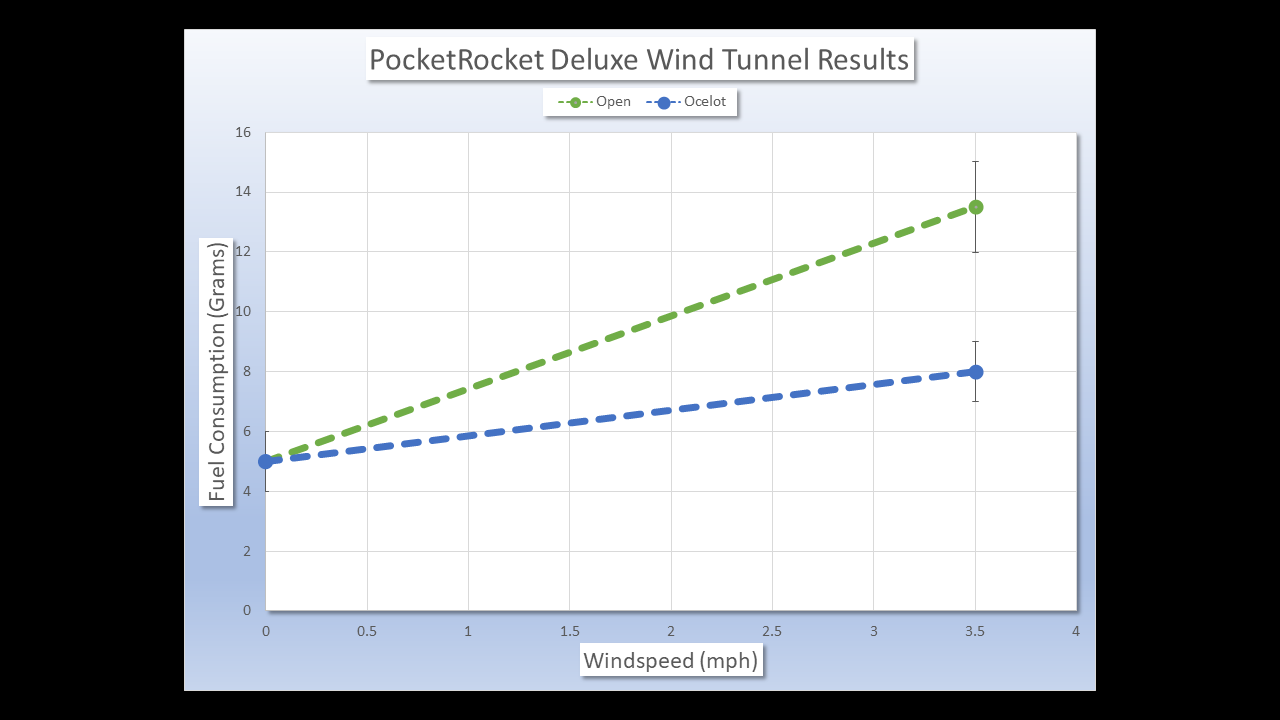 Here are wind tunnel test results from the BRS 3000t.  The test was run at ambient as weill as with and without the Ocelot windscreen.  In all test, 2 cups of 70 F water was used and heated until boiling (210 F at our elevation).   When testing the BRS 3000t, we were unable to obtain a boil an had to reduce the speed to 2.1 mph. In all cases, the stoves were turned to 1/3 power, increasing the power, lowers the fuel efficiency.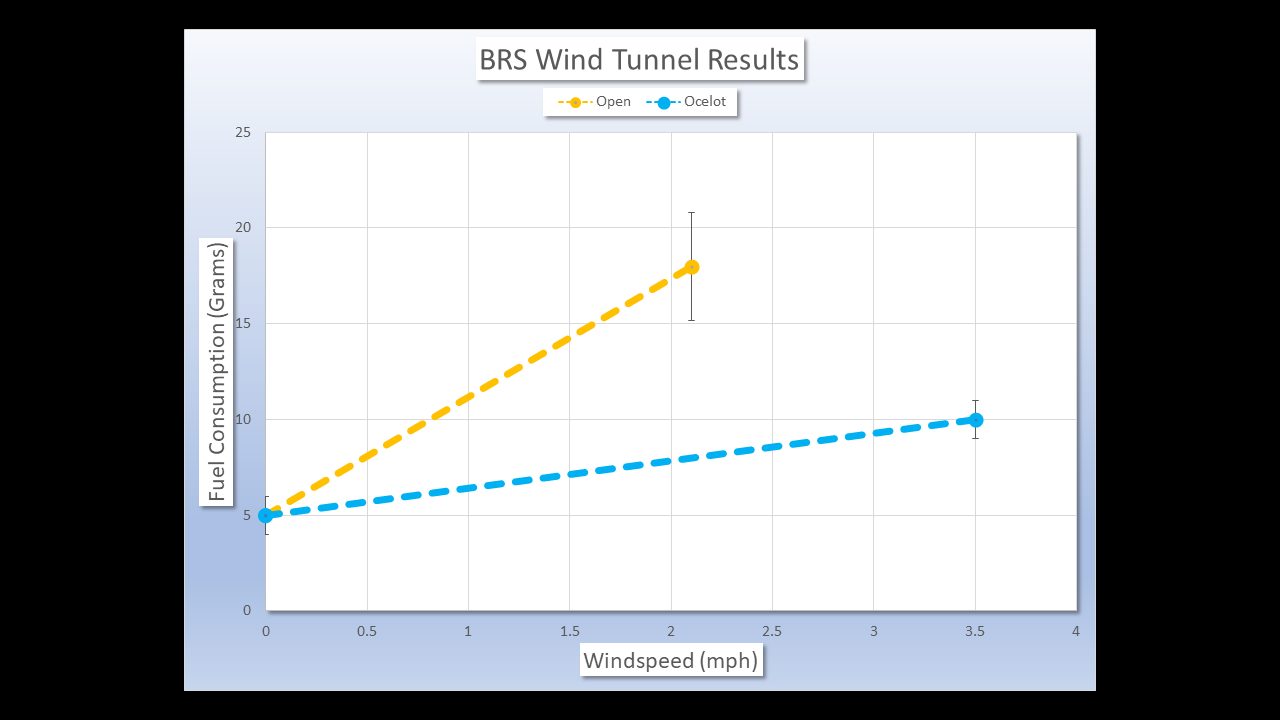 Ready to configure your Ocelot System?  Follow this link 
A partial list of compatible mugs

(4.2 inches in diameter and smaller)

Snow Peak Trek 700

Snow Peak Minimalist Soloist Ti
Imusa 10 cm Mug
Snow Peak Trek 600
Snow Peak Minimalist Soloist AL
REI Ti Ware Cup and Pot Set
Evernew Small Pasta pot 700 ml (ECA521)
Snow Peak Mini Soloist Ti
Vargo Ti Lite 750
Evernew Ultralight Ti 500 Mug (ECA266)
Snow Peak Hybrid Summit
Stoic Ti Kettle 700 ml
Evernew UL Deep (ECA264)
Klean Kanteen 40oz, wide
TOAKS Titanium 750ml Pot
Evernew Non-Stick Deep Pot (ECA402)
TOAKS Titanium 600 ml
Alpkit – MytiMug
Evernew Ultralight Deep Pot (ECA265)
Stanley Camp and Cook Set
Valtcan 900ml
Evernew UL Non Stick Deep (ECA401)
TOAKS, Titanium 650 ml Mug
Usharedo 900ml Outdoor Titanium Pot
Vargo BOT (1 liter)
Backcountry.com 700ml mug
 
 
 
 
 The Ocelo HX Kit
The Ocelot HX Kit is a specific kit designed to work with small volume heat exchanger pots.  We currently support the Sterno Inferno, Fire Mpale 1.0-liter pot, the Bulin 1.5-liter pot and the JetBoil Stash. The reason to take on such a project is to create a light and wind tolerant cooking system.  Compared to commercially available systems, the Ocelot DIY Kit is more fuel efficient, lighter and significantly less expensive.
The Ocelot DIY kit provides instructions on how to create your own heat exchanger cooking system.  All items are available commercially except the custom burn plate that allows you to couple the stove to the mug.  Here is a list of components that you will need to purchase:
HX Mug (~$24) – we recommend the Sterno Inferno, this project only utilized the mug and possibly the lid. Other HX mug will also fit including some JetBoil products (the burner plate is 3.5" in diameter).
Fire Maple 300t (~$28) or equivalent (there are quite a few clones out there)
Optional (~$8.50) – Imusa 4 cm replacement lid to further reduce your pack weight
Custom Burner Plate ($ to $$)
The HX Burner Plate
Simply put, the burner plate replaces the foldable support arms on the Fire Maple 300t (or similar clones).  Unthread teh stove body, replace the folding arms withteh the Burner Plate, Put all of the nuts back onto the stove and tighten.  The new stove assembly will fit inside the Inferno mug.  Details can be found here.
LInk to purchase the Ocelot HX Kit