Description
The Kovea Baking Plate allows you to convert you Kovea Cooking System into a Backpacking Oven. Light the stove and turn the burner on to the lowest possible setting. Place the Baking Plate between the burner and the pot to control the heat transfer rate (requires a Fat Daddios baking pan). Typical baking times for mugs are 25 minutes and for pots ~40-45 minutes.  Weight: 10 grams
The Kovea Baking Plate was optimized for the Kovea Spider, but it works with many stoves using three legs.  The diffuser works well with the BRS-3000T, MSR Pocket Rocket and the MSR WindPro II.
Note: Kovea Spider stoves enter the United States by various means. A number of un-authorized stoves come in via eBay and these stoves are different that the stove designed for the US market. Additionally, the legs of the Kovea Spider have manufacturing variations that causes the opening of the pot support to vary from stove to stove. We believe that the narrower setting (on the right) is preferable for several reasons. The narrow opening supports fits the Kovea Baking Plate well, it provides a better support for smaller mugs and when closed, compacts to a smaller package.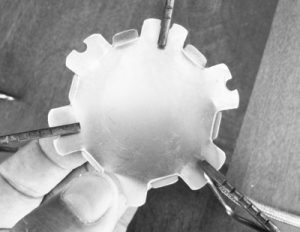 Good fit, 1/4″ overlap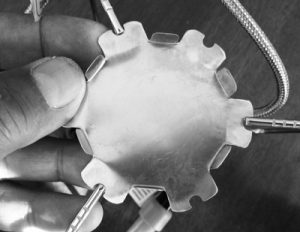 Bad fit, legs are too wide apart
The legs are simple to reshape and takes less than 3 minutes. Gently bend the leg of the stove radially inward until the tip just touches the burner head (see the image below). There is no reason to hold it in that position for a long period of tip, touch and release. Repeat on the remain legs and your stove will be in perfect alignment.