complete ultralight cook system
everything you need to boil, simmer and bake
real baked comfort foods on the trail
bread, pizza, muffins and more – with perfectly browned crust!
convenient, efficient, and self-contained
as light as 5 ounces, fuel efficient, and everything packs in the pot
packable, versatile, sustainable
customize with the type of stove, fuel & accessories that fit your needs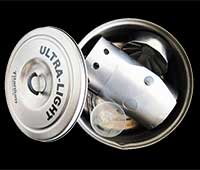 Bobcat System
Our most versatile and efficient solution
Complete kit is only 8.3 oz.
CLICK HERE FOR VIDEO OVERVIEW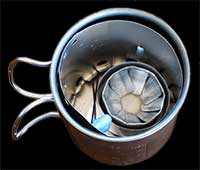 Snow Leopard System
For those who prefer mugs
Complete kit is only 5.5 oz.
CLICK HERE FOR VIDEO OVERVIEW
At FLAT CAT GEAR, we design and manufacture alcohol stoves for backpackers and adventures.
We design our gear to be packable, dependable and sustainable. All of our cooking systems can be packed inside the cooking pot, which results in minimal pack volume while providing ultimate protection during hiking. We do more than just boil water, our cooking systems also allow you to simmer, sauté, steam and even dry bake! We test all of our gear under real world conditions including high altitudes, cold temperatures and variable wind. Our alcohol stoves use sustainable resources, not fossil fuels and these fuels can be sourced locally.
We offer two basic cooking systems: Bobcat and Snow Leopard. The Bobcat Cooking System is our most versatile and fuel efficient cooking system. Using the Bobcat Cooking System, you can boil, simmer, pan fry, steam and dry baking and yet, the Bobcat System can weighs as low as 7.4 ounces. The Snow Leopard System is ideal for people who want to minimize their pack volume. Even with the smaller mug capacity, you can boil, simmer, steam and pan fry! The Snow Leopard Cooking System (including mug) can weigh less than 4.75 ounces! Everyone has their favorite mug, so the Snow Leopard comes in three sizes: Original, Junior and Senior. We currently support over 35 different mugs. All pricing and shipping information can be found under The FLAT CAT Store here or on the navigation link on the left.
We do much more than just boil water efficiently! We have the capability to make all sorts of items. We can boil and simmer so making soups is super easy. We have developed a dry baking process and routinely make fresh breads and muffins while out on the trail. We even make lasagna and quiches when we backpack. Come in and explore all of the interesting things that you can do with a FLAT CAT GEAR Cooking System!
THE LATEST NEWS
10-26-13:  Running FLAT CAT GEAR is a blast.  I love creating product, getting feedback from my customers and I really like coming up with solutions that will make backpacking more enjoyable.  One day, I may retire and commit all of my time to FLAT CAT GEAR.  That being said, it is extremely difficult to do this job for a living.  Thankfully, I also have a regular job which I enjoy as well.  For the next few months, my day job will be requiring more of my time and work on FLAT CAT GEAR will be limited.   I fully expect to ship orders within 2-3 weeks after receiving them.  I thank you for your patience and understanding.  Best regards – Jon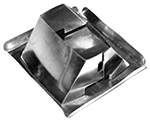 2-12-14:  We have a few of our pre-ALPHA Focus Fire 14 stoves left in stock.  The Focus Fire 14 was designed to efficiently burn Esbit fuel.  Using a Bobcat Cooking Syetm, I can heat 4 cups of water up to nearly 200 F using a single 14 gram tablet of Esbit.  The stove is made of 302 stainless steel and the complete stove weighs 6 grams.  This is a limited edition, DIY kit: you finish and assemble all of the parts.  The kit is being sold only in the United States at this time.   Note: this is a special PayPal button, only click on it once and the order will go through, it bypasses the FLAT CAT Store.
2-6-14:  I have the TOAKS 700 ml mug (Snow Leopard – Original) and the TOAKS 900 ml pot (Bobcat Jr.) in stock!   Great gear at a great price!